[Hoffmann Group] TAILORED WORKSTATIONS AND STORAGE SOLUTIONS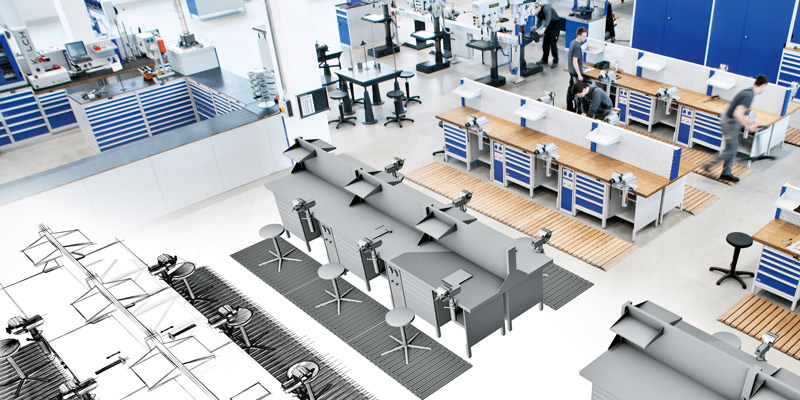 Maybe you need just a single cabinet, or maybe you need to kit out an entire hall. Whatever the case, we can supply you with exactly the right workstations and storage solutions for the job.
A full-service provider for workstations and storage solutions, we offer a one-stop-shop for everything – from in-house manufacturing to expert advice, right through to turn-key installation. And at every stage, our focus is on ensuring the very best quality and functions, at the very best cost/benefit ratio. Giving you guaranteed workflow efficiency that won't break the bank.
From advice through to CAD-based project planning and quote up to delivery and assembly: The Hoffmann Group provides a comprehensive "one-stop" service for their Workstations and Storage Equipment .
Take advantage of the extensive knowledge that our workstations and storage consultants have to offer, and get expert advice covering everything from requirements analysis to installation. Thanks to our outstanding choice of products and solutions, you can make your workflows much more efficient – meaning more time and money saved.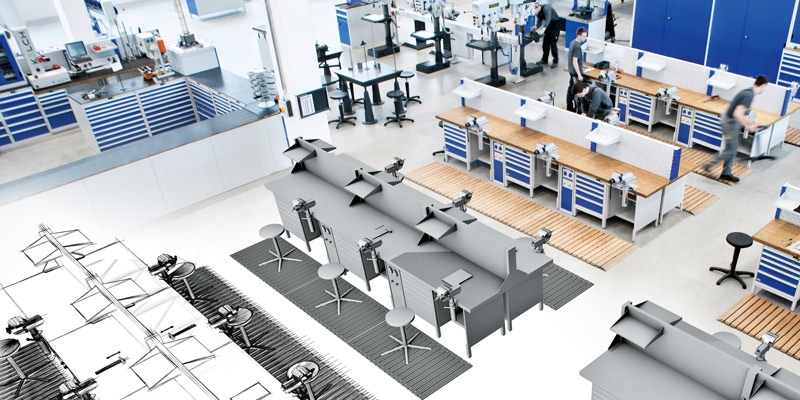 We offer CAD-based project planning that creates workstation layouts designed with accurate details and practical scenarios in mind, plus transparent system structures including virtual simulations. Not only that, but we also consider factors such as ergonomics, traffic areas, lighting conditions, health and safety, and the 5S method.
And there are more customisation options for you to discover.
- A wide selection of worktop materials
- Secure closing systems
- Practical partition materials
So you're guaranteed to get a solution that works for you.
We will provide you with binding, transparent quotations that include consultancy, planning, delivery and installation. You will also receive a detailed list of all individual items, including 3D drawings.
All to ensure maximum investment security and certainty in your planning.
Thanks to our new workstations and storage centre in Odelzhausen, near Munich, we are able to deliver more than 2000 workstations and storage products from stock. We ensure that the goods are protected during transport and that delivery takes place exactly as requested. So you'll get the right equipment at the right time in the right place.
Our trained installation teams will install your workstations and storage equipment exactly as you've requested – and will do it both professionally and quickly. So you'll benefit from the perfect installation service: by professionals, for professionals.
Isn't it great when you find everything in one place?
EFORM / ESHAPE - ISN'T IT GREAT WHEN YOU FIND EVERYTHING IN ITS PLACE?
eForm: individual rigid foam inlays

Our online configurator allows you to plan your rigid foam inlays exactly in line with your requirements.
Choose from the 3D variant with 100% accurate depth selection and the lower-cost 2D variant with a single common milled depth throughout.
You'll then receive a detailed quotation – outlined with exceptional clarity, down to the last penny. Our solution also includes a useful project archive containing all the project information you need.
The benefits to your are:
100% accuracy of fit for your tools
Missing tools are easily spotted
Quicker removal of tools (no more searching)
Quick, virtual planning on our website
Important component of the 5S method
---
New in the configurator:
eShape for workstations tailored to your requirements.

Whether shorter worktops, cut-outs or cable pass-throughs: Simply select an in-stock worktop from the database and configure it for your individual needs. Your customised worktop will of course be made to your exact specifications.

Nội dung này chưa có bình luận, hãy gửi cho chúng tôi bình luận đầu tiên của bạn.